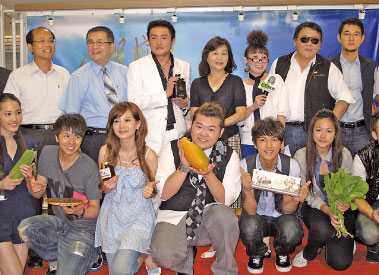 County Magistrate Su Chih-fen (right, back row 4) Mayor Wen-Ping Lin (back row, left 1) Legislator Liu Jianguo (right, back row 1) producer Wangmeng Lin (right, back row 2) and all the cast photo. (Reporter Liao Suzhen / Photo) [reported on 14/07/2010]
【By Reporter Liaosu Zhen / Yunlin have produced reports】 Lu Binghua and other dozens of television and film record high ratings in the name of producer from Yunlin, Biao Lai Fun. Young and old in a salty shot of Yunlin timely drama 流氓校長
rogue president
(direct translation), all the actors in the Yunlin County Government held a press conference, expected to be issued in Asian countries, to promote Yunlin characteristics to the world.
One of Wang Menglin producer, said "rogue president" is a true story, describing the background of the principles to having a "brother", how teachers lead to teacher-student problems. By students' enthusiastic recommendation, a new attempt was made to rewrite the original script for the film entirely using Yunlin's background.
Su Chih-fen said that the agricultural capital of Yunlin, is full of simple rural scenery. It's the best indicator of Taiwan's rural landscape, to give the audience a better understanding of the National Yunlin County, "rogue president" was sponsored to film in Yunlin, hoping that through the film, people will see the beauty of Yunlin.
Mayor Wen-Ping Lin says that, Huwei of sugar, Puppet Museum, Yunlin Story House, Concentric Park, Air Force military community, are the important historical sites in Yunlin which are suitable for the scenes.
In order to fix an early completion, producer Lai Fun Biao, Wang Menglin lead director and other 35 artists will be stationed in Yunlin County for 3 months to film. Wang Menglin said that this is the longest they have to live in a motel since filming the first film. The first impression on Yunlin is "hot."
source:
http://tw.epochtimes.com/10/7/14/143215g.htm
***
mods please edit where necessary.
Spoiler: