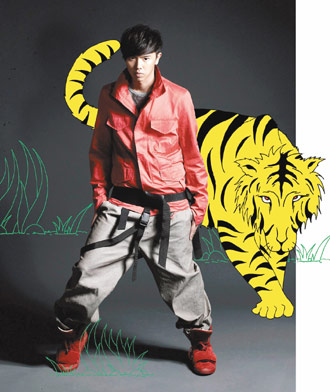 Alien - taking pictures for the book, 3 months weight-loss diet.
United Daily News reporter Jiang Zhi edge / Taipei
Alien Huang Hong Sheng is publishing the first of three picture books - "赤鬼流". The first order break 50,000, easily accounted for 20 million yuan NTD, he thank fans for support. To bundle the new book, he had an active weight loss in 3 months and took a cool photo shoot using his own money.
Alien said that this year, a friend received a postcard sent from abroad. Seeing the handwritten greetings gave him an idea to try and present his book in a postcard format. In this book, you can see Alien in a fantasy world, with colleagues planning to deficit him:
"Hey! Do not be too much huh. So great, intending to snatch my work?"
Alien has an amazing perseverance. He insisted on not sleeping until the (book)schedule was finalized. He lost several kilos of body weight to 60. However, as he was still worried that his face is too round and not handsome enough to be on camera, he skipped dinner for over 100 days.
He joked: "This is the most painful beauty ".
When Alien is not satisfied with his own creation, he would listen to his idol; Bobby Chen's, album to boost his own spirit.
Alien is working closely with famous clothing brand like "GUCCI", "Dior Homme", borrowing from the latest wave of collection, which asks for more than 20 million (NTD) for a single product (
note: i believe this is for the photoshoot of his book)
. Not only the cost of the book is worth Alien's creativity but the shape is ultra-stylish too. The book also contains an interactive mystery gifts and Alien games, as mentioned in his blog (http://www.wretch.cc/blog/alien3647).
Spoiler:
p/s: mods please edit where/if necessary. thanks!