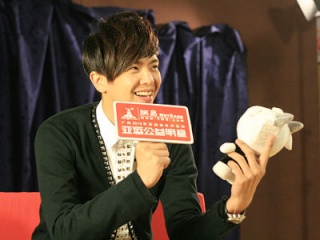 Translation credit: lo_ovelyxiaogui @
http://xiaoguifanz.forumotion.com
Date: June 25, 2010 (It was edited on June 30th)
Source:
NetEase (2010.163.com)
After a 7-year wait, Xiao Gui (Huang Hong Sheng) was finally able to fulfill his dream as a singer by releasing his first solo album, entitled 'Love_Hero'. In these seven years, Huang Hong Sheng has improved himself through hosting, acting, drawing, operating his own store. These activities have allowed him to no longer be known as merely "Xiao Gui, a former member of Cosmo." Today we noticed that Huang Hong Sheng didn't slack off one bit. His new album 'Love_Hero' has turned the tide in his favor, letting Huang Hong Sheng make himself into a hero. It also gives us a glimpse of a rare Taiwanese artist who is improving and developing in many new ways.
Towards the outside world that compares him to Xiao Zhu (Show Lo), Huang Hong Sheng says frankly he does not intentionally imitate Show Lo. He also hopes that, regarding public service to the community, artists will take the lead, and not fall behind. He still wishes to participate in the Guangzhou Asian Games, alongside athletes who can stick to their dreams without giving up.
New Album is Turning the Tide in Huang Hong Sheng's Favor
After 7 years, Huang Hong Sheng finally releases his solo album, entitled Love_Hero. What's even more heartening is that he didn't hesitate to go all out for his album, enlisting the help of popular rock n' roll singers like Wu Bai, Mayday's Monster and Ah Shin, Zhang Zhen Yue, Ah Di Zai, and Fun 4. Huang Hong Sheng expresses that although he had many idols to help compose his songs this time, he doesn't dare to relax one bit: "I hope that in by giving myself more pressure, I can do my best"
Regarding his new album's name, Huang Hong Sheng gave this definition of what a hero should be: "Normally a hero would need to have a few elements that embody the importance of a hero. The most important element of a hero would be the ability to turn a negative situation around. What does it mean to turn a negative situation around? It would just be taking hold of all the bad and turning it into something good, that's what a hero is." Yes, through his hard efforts all these years, he has eventually made himself into a hero. On the music front, he hopes that people will call him 'Huang Hong Sheng'. As for the name 'Xiao Gui', it is reserved for times when he's hosting or drawing.
I Didn't Deliberately Imitate Show Lo
Because his master is Show Lo, Huang Hong Sheng and Show Lo are co-hosts of the popular Taiwan variety show 100% Entertainment (Yu Le Bai Fen Bai). Although the outside world thinks that he imitates Show Lo's pattern of speech, Huang Hong Sheng replied that he does not intentionally imitate Show Lo. "My Master Lo is very important to me as a teacher. He's given me advice about this entertainment circle. He's also instructed me with some of the finer techniques of hosting. So everyone, if I could compare to him, I wouldn't be at all upset. Instead I would be very happy, because he is my goal and someone I greatly respect."
Also interested in graphic creation, Huang Hong Sheng said he will continue to go on a ghost theme, creating a 3rd book called 'Chi Liu Gui' (Red Ghost Class). Through this, he hopes to win over the young masses, be successful both in his life and career, and to forge a good path of his own.
Artists Shouldn't Forget About Public Welfare
When speaking about a 2009 public awareness film on depression that he starred in (Black Tide), Xiao Gui recalled that it was a meaningful film, and that he did a lot of homework. He visited many depressed patients, admitting to once having had a girlfriend who suffered from a bout of depression. In calling for more care for people with depression, Xiao Gui frankly stated: "I think that in community service work, as entertainers, we should not fall behind." He wishes to do more meaningful things, adding to their meager strength to help people in need.
Likes to Play Cool Sports, Hopes That Athletes Don't Lightly Abandon [Dreams]
Ever since he was small, Huang Hong Sheng has always liked sports. His dad even once wanted him to build his talents as a golfer. However Xiao Gui declined because he liked to play cooler sports, like basketball or Tae-kwan-do. He jokes that playing golf isn't one bit handsome.
This being Huang Hong Sheng's first time visiting Guangzhou, emphatic food-lover Xiao Gui didn't spare the chance to taste Guangzhou's delicacies that impressed him the most. As the date of Guangzhou's Asian Games grows increasingly closer, the constantly pursuant Huang Hong Sheng wants the athletes to not lightly give up. "Stick to your dreams, don't give up on those dreams. Bearing it all, you can achieve your best performance."
Spoiler: