Huang Hong Sheng Ready to Take A Big Bite Out of His Pork Chop Sandwich, Sweeps Through Mong Kok to Shop for Shoes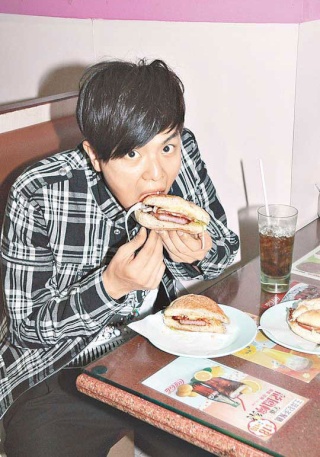 Each time Xiao Gui visits Hong Kong, he will definitely look around to shop and buy a pork chop sandwich in the Mong Kok area.
June 18, 2010
Source: http://ent.mop.com/star/3203254.shtml
Taiwan's idol singer Xiao Gui came to Hong Kong early the other day to plan a promotional tour of his original manuscript (Chi Gui Liu/Red Ghost Class), as well as to savor the fine delicacies offered along Mong Kok road. A noticeable group of female fans spotted him and wanted to take a picture with him. But when he entered a shop to eat, they patiently waited outside. Xiao Gui even commended them on their good behavior.
Having come to Hong Kong many times, Xiao Gui's favorite place to 'treasure hunt' is in the Mong Kok area: "I really love buying shoes in Mong Kok because there's so many special editions, and they all can be found here. Each time, I can buy ten pairs to be sent back to Taiwan."
When asked if the purpose of him coming to Hong Kong was to go shopping, he said: "It's too bad that I had no time go shopping, because my visit was for more pressing issues this time. But I still went to Mong Kok to get a bite to eat. The pork chop sandwich here is really delicious. I ordered two!"
--edit--
If there are any mistakes, please let me know ^_^
Spoiler: